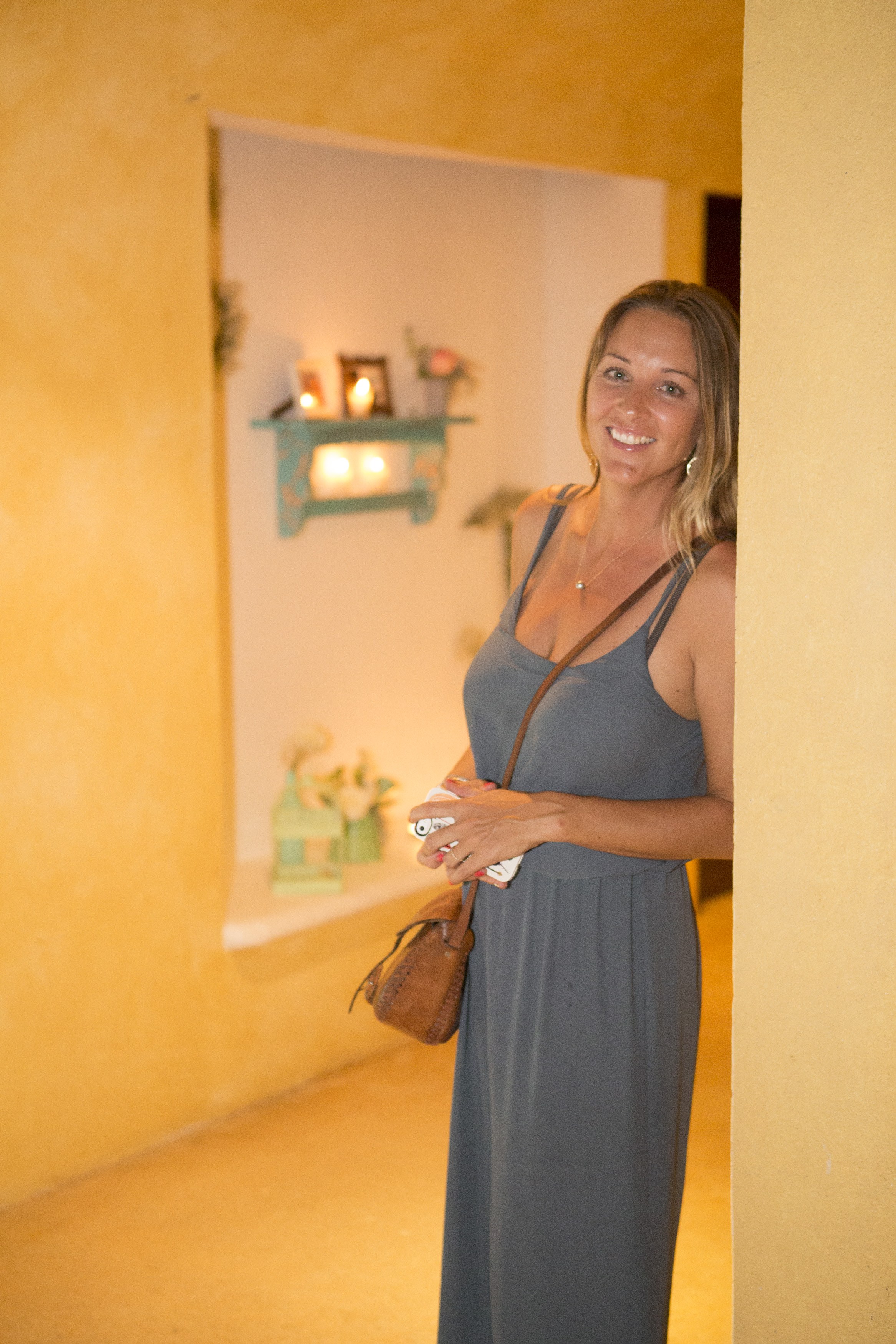 Courtney Bialy.
Things I LOVE: an old-school planner, baskets, yellow gold, cold dry white wine, the color turquoise, Maybelline Great Lash (in the pink tube), dogs, making lists on paper so there's satisfaction when I cross something off, my husband Storm, my little girl Rebel, avocados, salty wavy hair, sunshine, gold Havianas, comfortable clothes that I can wear for a night out and then also to bed.
Sunset Soirée started informally in 2012 planning my own wedding here in Sayulita. After I got married, I casually started helping friends who sought creative input and support with the logistics of their weddings down here and boom! One thing lead to another…
My love for design (renovating a hotel and a house here in Sayulita) coupled with the practical side of planning has given me a well-rounded approach to coordinating weddings and events. My fluency in Spanish and personal relationships with the local vendors proves invaluable when planning your most important event. I'm also laid back & easy going. I aim to keep the stress of planning an event from a far at a minimum.
Everything about your event should be beautiful & FUN! not stressful. I'm meticulously organized, creative, and book a limited number of events per year to ensure your wedding or event gets the attention it deserves.
These aspects are some of what makes me invaluable to my clients. With your guidance, we will create an event that goes as planned with grace and perfection.
Helping you with everything you need to know about Sayulita on fact-finding trip here prior to the big day. If you cannot make it down before, we can still make it work!! I'll help you with venues, vendors, and the extras you didn't know were options.
Determining an accurate budget based on your needs/wants, scheduling of deposits and vendor payments, and keeping you up to speed throughout the entire process. Honesty is the best policy, especially when planning from over 1500 miles away.
Taking your vision, making it come to reality….and then some! My eye for design and knack for getting crafty will help pull together all design elements and visuals of the event: lighting, flowers, details and décor. There won't be a stone unturned and I might even throw a few surprises in there!
I was referred to the wonderful Courtney through a close friend that works for her, Amy! I am so thankful for that referral because I don't know what I would've done without her. I could trust her. I could be honest with her. She helped me problem solve. Helped me calm down. We emailed and facetimed for over a year and I always was able to count on her! She made my wedding vision come to life and then some!
Madelyn
I would give Sunset Soirée 500 stars if I could! Courtney helped me make my wedding week an absolutely dream! She turned all of my inspirations into a more perfect & beautiful wedding (& welcome party) than I could've ever imagined. I am still amazed when I look at pictures of our venue! She is incredibly creative, an amazing coordinator and knows how to throw a party! Courtney has such great local vendors- every detail from the gorgeous flowers, to the spot on DJ, to the amazing local food was beyond perfect! Courtney made all of the planning easy, totally stress-free and so much fun! She truly helped make this week the best week of our lives and we are forever grateful to her! If you are getting married or planning an event in Sayulita, use Sunset Soirée- Courtney is the best there is!
Courtney & cory
Courtney is the best! Hiring her was definitely the best decision we made when planning our wedding. We honestly couldn't have done it without her! She has naturally great style and taste and I felt like I could really trust her because of her eye for design. That I feel like you naturally have or you don't, and she definitely has it! She recommended amazing vendors and I couldn't be happier with the end result. Once I arrived in Mexico I promised myself I would let go and trust that Courtney had everything under control. I didn't have to do one thing once I arrived, and she had everything completely taken care of. She exceeded all of my expectations. The wedding was even more than I ever could have imagined. The only way that I can describe it was perfect, straight out of a dream, simply the best day of my life.
Michaela